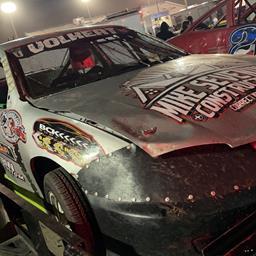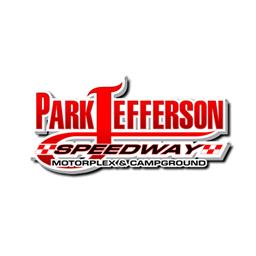 6/19/2022
Park Jefferson International Speedway
---
NORTHERN SPORT MODS OFFER HORSEPOWER PREVIEW
An A feature IMCA North Sport Mods clash as hot as the steamy mid-June temperatures highlighted a full show at Park Jefferson International Speedway Saturday, June 18.
Three heavyweights on the season points standings continued to pressure leader Rusty Montagne. Karl Brewer, the Vermillion velocitor, found his way to victory lane for a fourth time with the Sloan duo of Willy Kirk and Michael Guthrie placing second and third. At night's end, Montagne's advantage was just eight over Kirk, 30 over Guthrie, 48 over the hard-charging Brewer and 52 over home towner A.J. Boulware of Jefferson, S.D.
Brewer's triumph gave fans reason to be excited for the 2022 Premier Industries Horsepower Nationals Monday and Tuesday, June 20 and 21. The Northern Sport Mods will be featured over both days chasing a $5,000 first prize.
After several Saturdays of repeat victors on southeastern South Dakota dirt, the Driver's Appreciation Night theme proved different other than Brewer. Beresford, S.D.'s Keegan Nordquist (JZ Diesel Modifieds), Yankton, S.D.'s Paul Wenzlaff (J&J Fitting Stock Cars), Sioux City's Austin Lundquist (Q and Feather Again Hobby Stocks) and Correctionville's Levi Volkert (Fox 620 Sport Compacts) were all first-time feature victors.
More information on the first Premier Industries Horsepower Nationals is available at https://www.parkjeff.com.
MCA Sport Compacts by Fox 620
A Feature 1 (10 Laps): 1. 712-Levi Volkert[1]; 2. 35X-Connor Brown[6]; 3. 35JR-Taylor Brown[3]; 4. 33R-Jordan Runge[4]; 5. 7G-Gilbert Aldape[5]; 6. 1-Chase Felix[2]; 7. 98-Skyler Savage[7]; 8. (DNF) 24-Kale Hofer[8]
Heat 1 (8 Laps): 1. 712-Levi Volkert[1]; 2. 33R-Jordan Runge[4]; 3. 35JR-Taylor Brown[3]; 4. 1-Chase Felix[2]; 5. 7G-Gilbert Aldape[5]; 6. 35X-Connor Brown[6]; 7. (DNF) 98-Skyler Savage[8]; 8. (DNF) 24-Kale Hofer[7]
IMCA Stock Cars by J&J Fitting
A Feature 1 (14 Laps): 1. 10X-Paul Wenzlaff[2]; 2. 94-Todd Gereau[6]; 3. 10N-Kole Nordquist[4]; 4. TNT2-Devin Tripp[5]; 5. 55JR-Greg Taylor[10]; 6. 43-Aaron Cain[9]; 7. 27-Sid Mosher[8]; 8. 4A-Brian Seibold[13]; 9. 423-Jake Newsom[11]; 10. 69X-Richie Ackerly[12]; 11. 10W-Brady Wenzlaff[7]; 12. (DNF) 78-Joe Merrill[3]; 13. (DNF) T17-Brenton Palmer[1]
Heat 1 (6 Laps): 1. 10X-Paul Wenzlaff[2]; 2. 10N-Kole Nordquist[3]; 3. 94-Todd Gereau[4]; 4. 27-Sid Mosher[5]; 5. 55JR-Greg Taylor[6]; 6. 423-Jake Newsom[7]; 7. 4A-Brian Seibold[1]
Heat 2 (6 Laps): 1. 10W-Brady Wenzlaff[4]; 2. T17-Brenton Palmer[1]; 3. TNT2-Devin Tripp[3]; 4. 43-Aaron Cain[5]; 5. 78-Joe Merrill[2]; 6. 69X-Richie Ackerly[6]
IMCA Modifieds by JZ Diesel
A Feature 1 (20 Laps): 1. 10N-Keegan Nordquist[5]; 2. 1X-Chris Abelson[9]; 3. 35D-Dylan Sillman[7]; 4. 48-Bob Moore[10]; 5. 23-Jim Thies[8]; 6. 25-Ricky Stephan[6]; 7. (DNF) 88-Sean Barragan[4]; 8. (DNF) 35-Jeff Berens[2]; 9. (DNF) 55-Jim Cole[3]; 10. (DNS) 16-Austin Svoboda
Heat 1 (6 Laps): 1. 55-Jim Cole[2]; 2. 35D-Dylan Sillman[4]; 3. (DNF) 1X-Chris Abelson[5]; 4. (DNF) 10N-Keegan Nordquist[3]; 5. (DNF) 16-Austin Svoboda[1]
Heat 2 (6 Laps): 1. 88-Sean Barragan[2]; 2. 25-Ricky Stephan[3]; 3. 23-Jim Thies[4]; 4. 48-Bob Moore[5]; 5. 35-Jeff Berens[1]
IMCA Northern Sport Mods
A Feature 1 (14 Laps): 1. 13K-Karl Brewer[7]; 2. 86W-Willy Kirk[6]; 3. 4G-Michael Guthrie[2]; 4. 5D-Devyn Peterson[12]; 5. 14-AJ Boulware[5]; 6. T1-Rusty Montagne[14]; 7. 5M-Dawson March[18]; 8. 99RE-Arie Schouten[8]; 9. 6B-Travis Burger[13]; 10. 48-Tommy Tanner[1]; 11. 67JR-Jacob Beckstrom[15]; 12. (DNF) 21-Cameron Meyer[11]; 13. (DNF) 25-Josh Blom[3]; 14. (DNF) 72K-Tyler Schmidt[17]; 15. (DNF) 0NA-Ahnna Schouten[9]; 16. (DNF) 00K-Kalyb Brunssen[4]; 17. (DNF) 16J-Justin Svoboda[10]; 18. (DNS) 40-Leslie Lutter
Heat 1 (6 Laps): 1. 86W-Willy Kirk[4]; 2. 16J-Justin Svoboda[6]; 3. 48-Tommy Tanner[2]; 4. 25-Josh Blom[3]; 5. 6B-Travis Burger[5]; 6. 40-Leslie Lutter[1]
Heat 2 (6 Laps): 1. 00K-Kalyb Brunssen[3]; 2. 99RE-Arie Schouten[5]; 3. 4G-Michael Guthrie[2]; 4. 21-Cameron Meyer[6]; 5. T1-Rusty Montagne[4]; 6. 72K-Tyler Schmidt[1]
Heat 3 (6 Laps): 1. 5D-Devyn Peterson[6]; 2. 14-AJ Boulware[3]; 3. 0NA-Ahnna Schouten[5]; 4. 13K-Karl Brewer[4]; 5. 67JR-Jacob Beckstrom[1]; 6. (DNS) 5M-Dawson March
IMCA Hobby Stocks by Q And Feather Again
A Feature 1 (14 Laps): 1. 96-Austin Lundquist[1]; 2. 77-Craig Clift[2]; 3. 34M-David Miller[10]; 4. 88G-Gavin Gilbertson[3]; 5. 39-Lowell Janssen[6]; 6. 32-Nate Regnerus[8]; 7. 9-Joel Magee[13]; 8. 3A-Auston Honeycutt[5]; 9. 22T-Tyler Smith[15]; 10. 02C-Cody Boulware[14]; 11. 29-travis dunagan[11]; 12. 99-Dellas Williams[9]; 13. (DNF) 18-ZACH FRYE[12]; 14. (DNF) 09J-Christy Moffatt[4]; 15. (DNS) 33X-Carter Davis; 16. (DNS) 35X-Connor Brown
Heat 1 (6 Laps): 1. 77-Craig Clift[2]; 2. 96-Austin Lundquist[1]; 3. 39-Lowell Janssen[5]; 4. 33X-Carter Davis[6]; 5. 09J-Christy Moffatt[4]; 6. 29-travis dunagan[3]; 7. (DNF) 9-Joel Magee[7]; 8. (DNF) 22T-Tyler Smith[8]
Heat 2 (6 Laps): 1. 88G-Gavin Gilbertson[2]; 2. 32-Nate Regnerus[6]; 3. 3A-Auston Honeycutt[4]; 4. 34M-David Miller[8]; 5. 99-Dellas Williams[7]; 6. 18-ZACH FRYE[1]; 7. 02C-Cody Boulware[5]; 8. (DNS) 35X-Connor Brown
---
Submitted By: Adam Adamson
Back to News