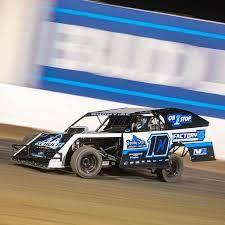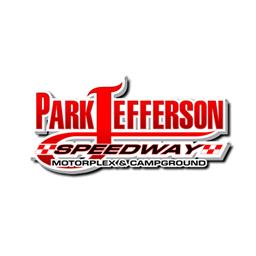 6/21/2022
Park Jefferson International Speedway
---
TRACK FAVORITES LEAD DEEP SPORT MODS FEATURE AT PARK JEFFERSON
For a second time in three nights, Karl Brewer, the Vermillion velocitor, took the checkered flag in IMA Northern Sport Mods action at Park Jefferson International Speedway in his heat race and will lead the field to green in Tuesdays 30 lap IMCA Sport Modified portion of the Heartland Horsepower Nationals. Mondays twin heat races saw drivers earn points to set the lineups for the Tuesday features.
Brewer, a victor in the June 18 season points run, held off South Sioux City, Neb., native Josh Blom to headline the 47-car Tuesday finale that is part of night one of the inaugural Premier Industries Heartland Horsepower Nationals. His name was one of two among the top five that PJIS regulars know well. Willy Kirk, the Sloan, Iowa, teen phenom will start the feature in fifth.
The intensity of the two-night event shifts into high gear Tuesday, June 21. A set of Last Chance Qualifier heat races and the Last Chance Final Four race proceed the all-important A Main along with more season point clashes in the regular track divisions. The Northern Sport Mods main feature will host 24 cars.
Admission prices for the final night of the Inaugural Heartland Horsepower Nationals, presented by Premier Industries, are as follows: Pit passes - $30 for adults and $15 ages 3-14 - Adult Grandstand tickets are $15/Seniors, $13/Kids six to 16, $3/Under six, free. Pit gates open at 4:30 p.m. and grandstands beginning seating at 6:00 p.m. Hot laps go green at 6:30 p.m., and racing starts at 7:30 p.m.
More new names found their way to victory lane resuming a previous weekend theme in the points' features. Chris Abelson of Sioux City (JZ Diesel Modifieds); Mike Albertsen of Audubon, Iowa (J&J Fitting Stock Cars); Craig Clift of Sioux City (Q and Feather Again Hobby Stocks); and Jay Devries of Spencer (Fox 620 Sport Compacts) made up the winners' list. Abelson notched IMCA victory number 194 all-time and continues his pursuit towards 200 victories.
Tuesdays IMCA Sport Modified portion of the program has the lineups posted including the top 10 in points who are locked into the A Main.
IMCA Sport Compacts by Fox 620
A Feature 1 (10 Laps): 1. 8J-Jay Devries[9]; 2. 28A-Anthony Clark[8]; 3. 24Z-Zach Bohlmeyer[3]; 4. 7G-Gilbert Aldape[5]; 5. 33R-Jordan Runge[2]; 6. 22-Caine Mahlberg[4]; 7. 442-Mike Vogt[1]; 8. 35JR-Taylor Brown[11]; 9. 712-Levi Volkert[10]; 10. 98-Skyler Savage[7]; 11. 1-Chase Felix[6]
Heat 1 (6 Laps): 1. 8J-Jay Devries[1]; 2. 33R-Jordan Runge[6]; 3. 7G-Gilbert Aldape[5]; 4. 442-Mike Vogt[4]; 5. 1-Chase Felix[3]; 6. 712-Levi Volkert[2]
Heat 2 (6 Laps): 1. 28A-Anthony Clark[4]; 2. 35X-Connor Brown[5]; 3. 22-Caine Mahlberg[3]; 4. 24Z-Zach Bohlmeyer[6]; 5. 98-Skyler Savage[1]; 6. (DNF) 35JR-Taylor Brown[2]
IMCA Stock Cars by J&J Fitting
A Feature 1 (14 Laps): 1. 3-Mike Albertsen[2]; 2. TNT2-Devin Tripp[1]; 3. 94-Todd Gereau[3]; 4. 10N-Kole Nordquist[4]; 5. 55JR-Greg Taylor[5]; 6. T17-Brenton Palmer[6]; 7. 78-Joe Merrill[7]; 8. 4A-Brian Seibold[8]; 9. 29V-Vandenbosch Heath[9]
Heat 1 (7 Laps): 1. 3-Mike Albertsen[3]; 2. 55JR-Greg Taylor[1]; 3. 94-Todd Gereau[5]; 4. 10N-Kole Nordquist[7]; 5. TNT2-Devin Tripp[4]; 6. T17-Brenton Palmer[9]; 7. 78-Joe Merrill[6]; 8. 29V-Vandenbosch Heath[8]; 9. 4A-Brian Seibold[2]
IMCA Modifieds by JZ Diesel
A Feature 1 (15 Laps): 1. 1X-Chris Abelson[4]; 2. 23-Jim Thies[3]; 3. 48-Bob Moore[2]; 4. 25-Ricky Stephan[6]; 5. 55-Jim Cole[1]; 6. 88-Sean Barragan[8]; 7. 141-Matt Bonine[5]; 8. (DNF) 16-Austin Svoboda[7]; 9. (DNF) 77M-RJ Merchant[9]
Heat 1 (7 Laps): 1. 1X-Chris Abelson[9]; 2. 141-Matt Bonine[1]; 3. 48-Bob Moore[6]; 4. 55-Jim Cole[2]; 5. 23-Jim Thies[7]; 6. 25-Ricky Stephan[3]; 7. 16-Austin Svoboda[8]; 8. 88-Sean Barragan[4]; 9. 77M-RJ Merchant[5]
IMCA Northern SportMods
THIS IS NOT AN ACTUAL RACE IT IS FOR POINT ONLY
First Round Heat Race Heat 1 (10 Laps): 1. 25-Josh Blom[2]; 2. Z28-Ty Weidner[3]; 3. 00-Colby Fett[5]; 4. 21-Cameron Meyer[7]; 5. 5M-Dawson March[4]; 6. 9T-Logan Thomsen[8]; 7. 21CZ-Cole Czarneski[1]; 8. 67RB-Daniel Loggins[9]; 9. 00K-Kalyb Brunssen[6]; 10. 16J-Justin Svoboda[10]
First Round Heat Race Heat 2 (10 Laps): 1. 81-Jared Boumeester[4]; 2. 14X-Jake Sachau[3]; 3. 53-Logan Anderson[5]; 4. 5D-Devyn Peterson[9]; 5. 22-Matt Andrews[7]; 6. 11-Izac Mallicoat[6]; 7. 6B-Travis Burger[8]; 8. 29J-Gregg Hamman[2]; 9. 5H-Shawn Hein[1]; 10. 2-Kayden Dirks[10]
First Round Heat Race Heat 3 (10 Laps): 1. 13K-Karl Brewer[1]; 2. 99RE-Arie Schouten[3]; 3. 5T-Tyler Nerud[5]; 4. 58-Hunter Poston[7]; 5. 21BT-Kirk Beatty[2]; 6. 23JR-Dudley Schroeder Jr[6]; 7. 9JR-Brendyn Nordyke[9]; 8. 21B-Wes Hochstein[8]; 9. 14-AJ Boulware[4]
First Round Heat Race Heat 4 (10 Laps): 1. 86W-Willy Kirk[1]; 2. 01-Brayton Carter[3]; 3. 97-David Johnson[2]; 4. 09B-Brett Berry[7]; 5. T1-Rusty Montagne[8]; 6. 9-Monty Nordyke[5]; 7. 82T-Brett Thomas[9]; 8. 24-Drake Bohlmeyer[4]; 9. 2G-Geoff Olson[6]
First Round Heat Race Heat 5 (10 Laps): 1. 1-Robbie Thome[2]; 2. 19XX-Brandon Spanjer[3]; 3. 1S-Justin Klynsma[1]; 4. 12-Lukas Pohlmann[5]; 5. 4G-Michael Guthrie[4]; 6. 4D-Danny Concelman[7]; 7. 31-Will Garceau[8]; 8. 7-Jonah Chinn[9]; 9. 48-Reese Coffee[6]
Second Round Heat Race Heat 6 (10 Laps): 1. 00-Colby Fett[6]; 2. 21-Cameron Meyer[4]; 3. 25-Josh Blom[9]; 4. 9T-Logan Thomsen[3]; 5. 00K-Kalyb Brunssen[5]; 6. 21CZ-Cole Czarneski[10]; 7. Z28-Ty Weidner[8]; 8. 5M-Dawson March[7]; 9. 67RB-Daniel Loggins[2]; 10. 16J-Justin Svoboda[1]
Second Round Heat Race Heat 7 (10 Laps): 1. 5D-Devyn Peterson[2]; 2. 53-Logan Anderson[6]; 3. 81-Jared Boumeester[7]; 4. 11-Izac Mallicoat[5]; 5. 14X-Jake Sachau[8]; 6. 22-Matt Andrews[4]; 7. 6B-Travis Burger[3]; 8. 29J-Gregg Hamman[9]; 9. 5H-Shawn Hein[10]; 10. 2-Kayden Dirks[1]
Second Round Heat Race Heat 8 (10 Laps): 1. 13K-Karl Brewer[9]; 2. 99RE-Arie Schouten[7]; 3. 58-Hunter Poston[3]; 4. 5T-Tyler Nerud[5]; 5. 14-AJ Boulware[6]; 6. 21B-Wes Hochstein[2]; 7. 23JR-Dudley Schroeder Jr[4]; 8. 9JR-Brendyn Nordyke[1]; 9. 21BT-Kirk Beatty[8]
Second Round Heat Race Heat 9 (10 Laps): 1. 09B-Brett Berry[3]; 2. 01-Brayton Carter[7]; 3. 86W-Willy Kirk[9]; 4. T1-Rusty Montagne[2]; 5. 97-David Johnson[8]; 6. 82T-Brett Thomas[1]; 7. 9-Monty Nordyke[5]; 8. 24-Drake Bohlmeyer[6]; 9. 2G-Geoff Olson[4]
Second Round Heat Race Heat 10 (10 Laps): 1. 31-Will Garceau[2]; 2. 19XX-Brandon Spanjer[7]; 3. 7-Jonah Chinn[1]; 4. 1-Robbie Thome[8]; 5. 12-Lukas Pohlmann[5]; 6. 4D-Danny Concelman[3]; 7. 1S-Justin Klynsma[9]; 8. 4G-Michael Guthrie[6]; 9. 48-Reese Coffee[4]
IMCA Hobby Stocks by Q And Feather Again
A Feature 1 (14 Laps): 1. 77-Craig Clift[1]; 2. 88G-Gavin Gilbertson[4]; 3. 34M-David Miller[9]; 4. 9-Joel Magee[6]; 5. 21L-Ryan Leedom[3]; 6. 22T-Tyler Smith[7]; 7. 39-Lowell Janssen[10]; 8. 35X-Connor Brown[11]; 9. 32-Nate Regnerus[5]; 10. 48J-Justin Shearn[13]; 11. 99-Dellas Williams[2]; 12. 18-ZACH FRYE[15]; 13. 29-travis dunagan[12]; 14. 09J-Christy Moffatt[14]; 15. 96-Austin Lundquist[8]
Heat 1 (6 Laps): 1. 88G-Gavin Gilbertson[2]; 2. 77-Craig Clift[8]; 3. 34M-David Miller[1]; 4. 96-Austin Lundquist[5]; 5. 99-Dellas Williams[4]; 6. 35X-Connor Brown[7]; 7. 48J-Justin Shearn[3]; 8. 18-ZACH FRYE[6]
Heat 2 (6 Laps): 1. 22T-Tyler Smith[1]; 2. 9-Joel Magee[3]; 3. 32-Nate Regnerus[5]; 4. 39-Lowell Janssen[7]; 5. 21L-Ryan Leedom[6]; 6. 29-travis dunagan[4]; 7. 09J-Christy Moffatt[2]
---
Submitted By: Adam Adamson
Back to News