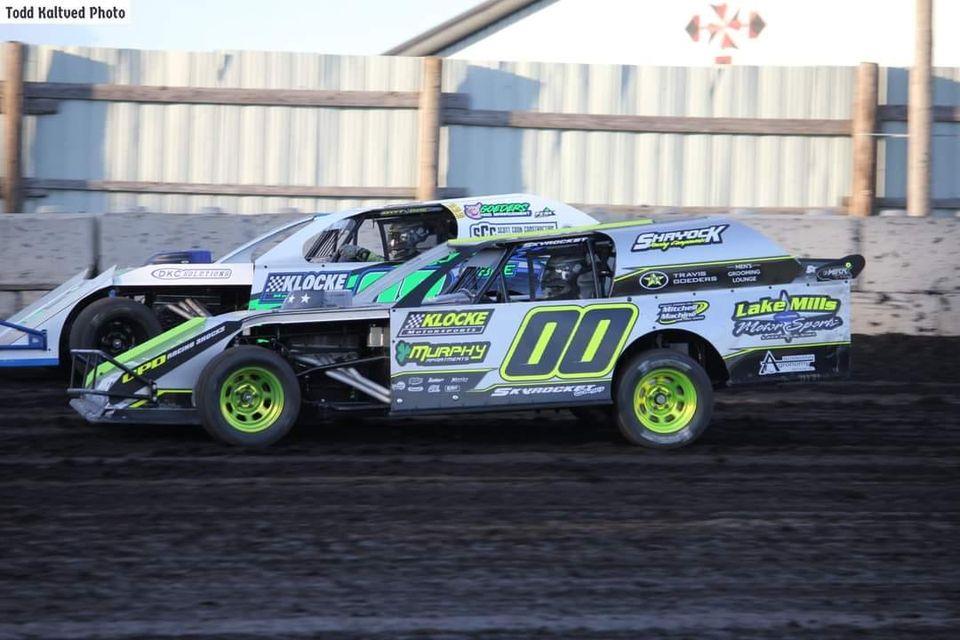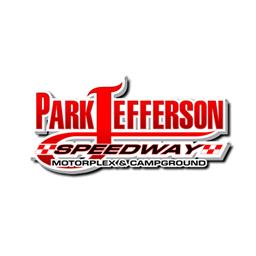 6/22/2022
Park Jefferson International Speedway
---
FETT CROWNED HEARTLAND HORSEPOWER SPORT MODS KING
With a $5,000 to win purse on the line, Algona, Iowa's Colby Fett kept an amazing person streak going on the final night of the inaugural Premier Industries Heartland Horsepower Nationals Tuesday, June 21.
All eyes were on track favorite Karl Brewer, the Vermillion velocitor, to see if he could pick up an A feature sweep after his Monday, June 20, victory. However, Fett roared around the southeastern South Dakota soil to his 17th straight feature top 10 and a fourth win in his last 12 opportunities. Logan Anderson of Eddyville, Iowa, and Brayton Carter of Oskaloosa, Iowa, rounded out the first three. Brewer finished just outside the top 10 in 12th with fellow track regular Rusty Montagne of Sioux City climbing into ninth.
In the regular portion of a packed and beautiful night for racing, Audubon, Iowa's Mike Albertsen (J&J Fitting Stock Cars); Sioux City's Chris Abelson (JZ Modifieds); and Spencer, Iowa's Jay Devries (Fox 620 Sport Compacts) won features for a second successive outing. Sioux City's David Miller, the Q and Feather Again Hobby Stocks season points leader, claimed his sixth triumph of the year to round out the remainder of the classes.
Competition is off this weekend in order for racing fans to attend Huset Speedway's Highbank Nationals. Action is scheduled to return Saturday, July 2, highlighted by a Tri-State Late Models' Freedom 40-lap feature. Tickets can be purchased at parkjeff.com, the Internet home of Park Jefferson International Speedway.
IMCA Sport Compacts by Fox 620
A Feature 1 (10 Laps): 1. 8J-Jay Devries[2]; 2. 24M-Caine Mahlberg[8]; 3. 24Z-Zach Bohlmeyer[4]; 4. 7G-Gilbert Aldape[3]; 5. 33R-Jordan Runge[7]; 6. 35JR-Taylor Brown[6]; 7. 28A-Anthony Clark[5]; 8. 442-Mike Vogt[10]; 9. 98-Skyler Savage[1]; 10. 10V-derrick vermilyea[9]; 11. (DNF) 35X-Connor Brown[11]
Heat 1 (6 Laps): 1. 8J-Jay Devries[1]; 2. 24M-Caine Mahlberg[5]; 3. 35JR-Taylor Brown[3]; 4. 7G-Gilbert Aldape[4]; 5. 33R-Jordan Runge[6]; 6. 35X-Connor Brown[2]
Heat 2 (6 Laps): 1. 24Z-Zach Bohlmeyer[3]; 2. 28A-Anthony Clark[5]; 3. 442-Mike Vogt[2]; 4. 10V-derrick vermilyea[1]; 5. 98-Skyler Savage[4]
IMCA Stock Cars by J&J Fitting
A Feature 1 (14 Laps): 1. 3-Mike Albertsen[5]; 2. 27X-Tyler Pospisil[3]; 3. 78-Joe Merrill[7]; 4. 94-Todd Gereau[9]; 5. T17-Brenton Palmer[4]; 6. 00K-Trey Kline[8]; 7. 55JR-Greg Taylor[10]; 8. 7-Joey Jaton[6]; 9. 4A-Brian Seibold[2]; 10. 29V-Vandenbosch Heath[12]; 11. 49X-Jeff Atkins[1]; 12. (DNS) 13M-James McCabe Jr
Heat 1 (7 Laps): 1. 3-Mike Albertsen[1]; 2. 94-Todd Gereau[4]; 3. 4A-Brian Seibold[2]; 4. 7-Joey Jaton[5]; 5. 49X-Jeff Atkins[6]; 6. (DNF) 13M-James McCabe Jr[3]
Heat 2 (7 Laps): 1. 00K-Trey Kline[2]; 2. 27X-Tyler Pospisil[1]; 3. T17-Brenton Palmer[3]; 4. 78-Joe Merrill[5]; 5. (DNF) 55JR-Greg Taylor[6]; 6. (DNF) 29V-Vandenbosch Heath[4]
IMCA Modifieds by JZ Diesel
A Feature 1 (15 Laps): 1. 1X-Chris Abelson[6]; 2. 60IV-Anthony Roth[3]; 3. 16-Austin Svoboda[5]; 4. 48-Bob Moore[8]; 5. 55-Jim Cole[1]; 6. 77M-RJ Merchant[2]; 7. 23-Jim Thies[4]; 8. 25-Ricky Stephan[10]; 9. M80-Jim Mathieson[7]; 10. 88-Sean Barragan[9]; 11. (DNF) 141-Matt Bonine[11]
Heat 1 (7 Laps): 1. 23-Jim Thies[2]; 2. 1X-Chris Abelson[6]; 3. 77M-RJ Merchant[1]; 4. 60IV-Anthony Roth[4]; 5. 88-Sean Barragan[5]; 6. 141-Matt Bonine[3]
Heat 2 (7 Laps): 1. 48-Bob Moore[3]; 2. 16-Austin Svoboda[1]; 3. M80-Jim Mathieson[2]; 4. 25-Ricky Stephan[5]; 5. 55-Jim Cole[4]
IMCA Northern SportMods
$5,00000 To Win A Feature 1 (30 Laps): 1. 00-Colby Fett[4]; 2. 53-Logan Anderson[9]; 3. 01-Brayton Carter[7]; 4. 1-Robbie Thome[11]; 5. 81-Jared Boumeester[3]; 6. 14X-Jake Sachau[14]; 7. 09B-Brett Berry[12]; 8. 99RE-Arie Schouten[6]; 9. T1-Rusty Montagne[16]; 10. 19XX-Brandon Spanjer[8]; 11. 5T-Tyler Nerud[15]; 12. 13K-Karl Brewer[1]; 13. 21CZ-Cole Czarneski[13]; 14. 1S-Justin Klynsma[19]; 15. 31-Will Garceau[21]; 16. 11-Izac Mallicoat[17]; 17. 97-David Johnson[18]; 18. 86W-Willy Kirk[5]; 19. 24-Drake Bohlmeyer[23]; 20. 9-Monty Nordyke[24]; 21. 82T-Brett Thomas[22]; 22. 25-Josh Blom[2]; 23. (DNF) 5D-Devyn Peterson[10]; 24. (DNF) 12-Lukas Pohlmann[20]
Final 4 Race / Top 4 to the A B Feature 1 (15 Laps): 1. 31-Will Garceau[12]; 2. 82T-Brett Thomas[2]; 3. 24-Drake Bohlmeyer[6]; 4. 9-Monty Nordyke[10]; 5. 21-Cameron Meyer[3]; 6. 9JR-Brendyn Nordyke[14]; 7. 5H-Shawn Hein[13]; 8. 6B-Travis Burger[15]; 9. 21B-Wes Hochstein[7]; 10. 23JR-Dudley Schroeder Jr[1]; 11. Z28-Ty Weidner[4]; 12. 22-Matt Andrews[5]; 13. 16J-Justin Svoboda[11]; 14. 9T-Logan Thomsen[8]; 15. 00K-Kalyb Brunssen[9]
Top 2 to the "A" 3 4 5 to the Final 4 Heat 1 (10 Laps): 1. 1-Robbie Thome[1]; 2. T1-Rusty Montagne[3]; 3. 23JR-Dudley Schroeder Jr[5]; 4. 24-Drake Bohlmeyer[7]; 5. 16J-Justin Svoboda[8]; 6. 58-Hunter Poston[2]; 7. 21BT-Kirk Beatty[6]; 8. 7-Jonah Chinn[4]
Top 2 to the "A" 3 4 5 to the Final 4 Heat 2 (10 Laps): 1. 09B-Brett Berry[1]; 2. 11-Izac Mallicoat[3]; 3. 82T-Brett Thomas[5]; 4. 21B-Wes Hochstein[6]; 5. 31-Will Garceau[2]; 6. 67RB-Daniel Loggins[7]; 7. 2-Kayden Dirks[8]; 8. 4D-Danny Concelman[4]
Top 2 to the "A" 3 4 5 to the Final 4 Heat 3 (10 Laps): 1. 21CZ-Cole Czarneski[5]; 2. 97-David Johnson[2]; 3. 21-Cameron Meyer[1]; 4. 9T-Logan Thomsen[3]; 5. 5H-Shawn Hein[7]; 6. 14-AJ Boulware[6]
Top 2 to the "A" 3 4 5 to the Final 4 Heat 4 (10 Laps): 1. 14X-Jake Sachau[1]; 2. 1S-Justin Klynsma[3]; 3. Z28-Ty Weidner[2]; 4. 00K-Kalyb Brunssen[5]; 5. 9JR-Brendyn Nordyke[6]; 6. 4G-Michael Guthrie[4]
Top 2 to the "A" 3 4 5 to the Final 4 Heat 5 (10 Laps): 1. 5T-Tyler Nerud[1]; 2. 12-Lukas Pohlmann[2]; 3. 22-Matt Andrews[3]; 4. 9-Monty Nordyke[4]; 5. 6B-Travis Burger[5]; 6. 48-Reese Coffee[7]; 7. 29J-Gregg Hamman[6]
IMCA Hobby Stocks by Q And Feather Again
A Feature 1 (14 Laps): 1. 34M-David Miller[5]; 2. 01F-Jeff Fink[1]; 3. 45-Travis Landauer[10]; 4. 88G-Gavin Gilbertson[7]; 5. 4-Lowell Janssen[9]; 6. 9-Joel Magee[3]; 7. 22T-Tyler Smith[6]; 8. 29-travis dunagan[16]; 9. 33X-Carter Davis[2]; 10. 18-ZACH FRYE[15]; 11. 35X-Connor Brown[14]; 12. 99-Dellas Williams[4]; 13. 3A-Auston Honeycutt[11]; 14. 48J-Justin Shearn[13]; 15. 96-Austin Lundquist[12]; 16. (DNF) 77-Craig Clift[8]
Heat 1 (6 Laps): 1. 4-Lowell Janssen[2]; 2. 9-Joel Magee[1]; 3. 33X-Carter Davis[5]; 4. 22T-Tyler Smith[6]; 5. 99-Dellas Williams[4]; 6. 3A-Auston Honeycutt[8]; 7. 48J-Justin Shearn[7]; 8. 18-ZACH FRYE[3]
Heat 2 (6 Laps): 1. 45-Travis Landauer[1]; 2. 01F-Jeff Fink[4]; 3. 34M-David Miller[2]; 4. 88G-Gavin Gilbertson[7]; 5. 77-Craig Clift[8]; 6. 96-Austin Lundquist[6]; 7. 35X-Connor Brown[3]; 8. 29-travis dunagan[5]
---
Submitted By: Adam Adamson
Back to News