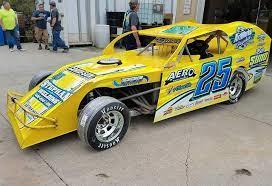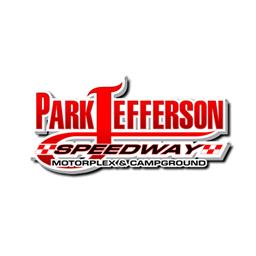 7/3/2022
Park Jefferson International Speedway
---
ZEITNER STEPS IN PARK JEFFERSON WINNER'S CIRCLE AGAIN
For a fifth time in six outings, Malvern, Iowa's Justin Zeitner took home an A feature trophy in Tri-State Late Models series action Saturday, July 2.
Zeitner, improving on his seventh-place standing on the current points chart, held off feature pole-sitter Josh Leonard of Gibbon, Neb., and Nate Beyenhof of Rock Rapids, who also started in the front row, for the Freedom 40-lap checkers. It was the second time in 2022 for the Malvern native to be the big winner in TSLMS action at Park Jefferson International Speedway.
PJIS' season points battles continued their way down the home stretch. North Sioux City's Rusty Montagne added to his lead in the IMCA Northern SportMods. Starting from the middle of the pack, he weaved his way to the front for his third victory of the year. Ricky Stephan of South Sioux City, Neb. (IMCA Modifieds by JZ Diesel) and Kole Nordquist of Beresford, S.D. (IMCA Stock Cars by J&J Fitting) also earned repeat-victor status. Sioux City's Tyler Smith (IMCA Hobby Stocks Q and Feather Again) and fellow Sioux Citian Gilbert Aldape (IMCA Sport Compacts by Fox 620) claimed feature victories for the first time.
Competition is off this weekend and is scheduled to return Saturday, July 16, with a Beat Inflation Night promotion that includes $9 tickets for adults and $1 tickets for kids. Tickets can be purchased at parkjeff.com, the Internet home of Park Jefferson International Speedway.
Tri State Dirt Late Models
H H Mobile Home A Feature 1 (40 Laps): 1. 62-Justin Zeitner[6]; 2. 85-Josh Leonard[1]; 3. 51-Nate Beyenhof[2]; 4. 76-Blair Nothdurft[7]; 5. 20-Trevor Anderson[3]; 6. 15M-Shane DeMey[5]; 7. 27M-Tyler Myers[8]; 8. 56-Chris Spieker[10]; 9. 11N-Denver Nickeson[9]; 10. 5-Luke Sathoff[20]; 11. 53-Andrew Kosiski[16]; 12. 27-Dylan Fitzpatrick[21]; 13. 99-Travis Paulson[11]; 14. 22J-Robbie Jorgensen[12]; 15. 71-Mike Benson[19]; 16. 55S-Ryan Schaufler[23]; 17. 45-Jon Haase[18]; 18. (DNF) 4-Justin Boomsma[13]; 19. (DNF) 11-Brad Vogt[4]; 20. (DNF) 9-Jared Jelsma[22]; 21. (DNF) 26-Troy Behnke[15]; 22. (DNF) 07-Ben Sukup[17]; 23. (DNF) 22-Gary Brown Jr[14]
B Feature 1 (10 Laps): 1. 27-Dylan Fitzpatrick[1]; 2. 9-Jared Jelsma[2]; 3. 71M-Mike Morton Jr[4]; 4. 55S-Ryan Schaufler[3]; 5. 83-Mike Babcock[7]; 6. (DNF) X-Joshua Rogotzke[5]; 7. (DNS) 44-Kevin Larson
Peterbilt of Sioux Falls Heat 1 (8 Laps): 1. 11-Brad Vogt[2]; 2. 15M-Shane DeMey[3]; 3. 11N-Denver Nickeson[1]; 4. 4-Justin Boomsma[4]; 5. 07-Ben Sukup[5]; 6. 27-Dylan Fitzpatrick[7]; 7. X-Joshua Rogotzke[6]
E A Concrete Heat 2 (8 Laps): 1. 76-Blair Nothdurft[1]; 2. 51-Nate Beyenhof[2]; 3. 56-Chris Spieker[4]; 4. 22-Gary Brown Jr[6]; 5. 45-Jon Haase[3]; 6. 9-Jared Jelsma[5]; 7. (DNS) 44-Kevin Larson
E A Concrete Heat 3 (8 Laps): 1. 62-Justin Zeitner[3]; 2. 27M-Tyler Myers[4]; 3. 99-Travis Paulson[2]; 4. 26-Troy Behnke[1]; 5. 71-Mike Benson[5]; 6. 55S-Ryan Schaufler[7]; 7. 83-Mike Babcock[6]
E A Concrete Heat 4 (8 Laps): 1. 20-Trevor Anderson[1]; 2. 85-Josh Leonard[4]; 3. 22J-Robbie Jorgensen[2]; 4. 53-Andrew Kosiski[6]; 5. 5-Luke Sathoff[3]; 6. 71M-Mike Morton Jr[5]
IMCA Sport Compacts by Fox 620
A Feature 1 (10 Laps): 1. 7G-Gilbert Aldape[6]; 2. 51-Jake Walding[2]; 3. 98-Skyler Savage[1]; 4. 1-Chase Felix[3]; 5. 24X-Kale Hofer[7]; 6. 35JR-Taylor Brown[4]; 7. (DNF) 33R-Jordan Runge[5]; 8. (DNF) 24-Jacob Hemmelman[8]
Heat 1 (6 Laps): 1. 35JR-Taylor Brown[6]; 2. 33R-Jordan Runge[8]; 3. 51-Jake Walding[4]; 4. 1-Chase Felix[5]; 5. 98-Skyler Savage[3]; 6. 7G-Gilbert Aldape[7]; 7. 24X-Kale Hofer[2]; 8. 24-Jacob Hemmelman[1]
IMCA Stock Cars by J&J Fitting
A Feature 1 (15 Laps): 1. 10N-Kole Nordquist[4]; 2. 27-Sid Mosher[7]; 3. 94-Todd Gereau[9]; 4. 43-Aaron Cain[5]; 5. 417-Jackson Mulder[10]; 6. T17-Brenton Palmer[1]; 7. 29V-Vandenbosch Heath[12]; 8. 78-Joe Merrill[11]; 9. (DNF) 10X-Paul Wenzlaff[3]; 10. (DNF) TNT2-Devin Tripp[6]; 11. (DNF) 4A-Brian Seibold[2]; 12. (DNF) 55JR-Greg Taylor[8]
Heat 1 (6 Laps): 1. TNT2-Devin Tripp[4]; 2. 55JR-Greg Taylor[5]; 3. 10N-Kole Nordquist[3]; 4. 4A-Brian Seibold[2]; 5. T17-Brenton Palmer[1]; 6. (DNS) 417-Jackson Mulder
Heat 2 (6 Laps): 1. 10X-Paul Wenzlaff[2]; 2. 27-Sid Mosher[4]; 3. 94-Todd Gereau[5]; 4. 43-Aaron Cain[3]; 5. 29V-Vandenbosch Heath[6]; 6. 78-Joe Merrill[1]
IMCA Northern SportMods
A Feature 1 (15 Laps): 1. T1-Rusty Montagne[6]; 2. 00K-Kalyb Brunssen[4]; 3. 86W-Willy Kirk[7]; 4. 48-Tommy Tanner[1]; 5. 78-Evan Davis[8]; 6. 10JR-Michael Nelson[10]; 7. 67JR-Jacob Beckstrom[2]; 8. (DNF) 18M-Mason Richards[9]; 9. (DNF) 68-Will Wolf[5]; 10. (DNF) 25-Josh Blom[3]; 11. (DNS) 40-Leslie Lutter; 12. (DNS) 4G-Michael Guthrie
Heat 1 (6 Laps): 1. 00K-Kalyb Brunssen[3]; 2. 86W-Willy Kirk[5]; 3. 68-Will Wolf[4]; 4. 18M-Mason Richards[6]; 5. 67JR-Jacob Beckstrom[2]; 6. 40-Leslie Lutter[1]
Heat 2 (6 Laps): 1. 25-Josh Blom[2]; 2. T1-Rusty Montagne[4]; 3. 78-Evan Davis[5]; 4. 10JR-Michael Nelson[6]; 5. 48-Tommy Tanner[1]; 6. (DNS) 4G-Michael Guthrie
IMCA Hobby Stocks by Q And Feather Again
A Feature 1 (15 Laps): 1. 22T-Tyler Smith[6]; 2. 34M-David Miller[9]; 3. 8X-Andy Hoffman[10]; 4. 77-Craig Clift[5]; 5. 32-Nate Regnerus[7]; 6. 9-Joel Magee[4]; 7. 88G-Gavin Gilbertson[2]; 8. 99-Dellas Williams[8]; 9. 18-ZACH FRYE[13]; 10. 49-Randy Randall[12]; 11. (DNF) 33X-Carter Davis[1]; 12. (DNF) 35X-Connor Brown[3]; 13. (DNF) 02C-Cody Boulware[11]
Heat 1 (6 Laps): 1. 8X-Andy Hoffman[7]; 2. 34M-David Miller[6]; 3. 88G-Gavin Gilbertson[2]; 4. 32-Nate Regnerus[5]; 5. 77-Craig Clift[4]; 6. 02C-Cody Boulware[3]; 7. 18-ZACH FRYE[1]
Heat 2 (6 Laps): 1. 22T-Tyler Smith[4]; 2. 9-Joel Magee[3]; 3. 35X-Connor Brown[2]; 4. 33X-Carter Davis[1]; 5. 99-Dellas Williams[5]; 6. 49-Randy Randall[6]
IMCA Modifieds by JZ Diesel
A Feature 1 (18 Laps): 1. 25-Ricky Stephan[2]; 2. 1X-Chris Abelson[5]; 3. 48-Bob Moore[4]; 4. 02JR-Chris Mills[7]; 5. X-Joshua Rogotzke[3]; 6. 55-Jim Cole[1]; 7. 88-Sean Barragan[6]
Heat 1 (8 Laps): 1. 55-Jim Cole[1]; 2. 25-Ricky Stephan[3]; 3. 1X-Chris Abelson[7]; 4. X-Joshua Rogotzke[4]; 5. 48-Bob Moore[6]; 6. 88-Sean Barragan[2]; 7. 02JR-Chris Mills[5]
---
Submitted By: Adam Adamson
Back to News