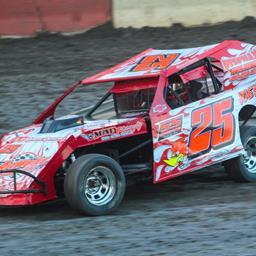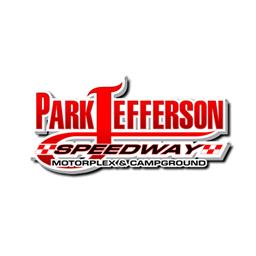 7/31/2022
Park Jefferson International Speedway
---
First time victors highlight PJIS racing return
After a three-week competition break due to weather and a pair of nearby track national events, the racing was as sizzling as the southeastern South Dakota temperatures Saturday, July 30.
Five competitors gained their initial 2022 checkered flags to headline Beat Inflation Night results. Turner Plumbing's $400 to win awards went to Shane DeMey of Denison, Iowa (IMCA Modifieds by JZ Diesel); Josh Blom of South Sioux City, Neb. (IMCA Northern SportMods); Sioux City's Travis Barker (IMCA Stock Cars by J&J Fitting); Gavin Gilbertson of Vermillion, S.D. (IMCA Hobby Stocks by Q and Feather Again); and Kaytee DeVries of Spencer, Iowa (IMCA Sport Compacts by Fox 620).
Season points leaders weren't far off the pace held by the feature winners. Sioux City's Bob Moore took fifth to keep a 40-point advantage on the modified standings; North Sioux City's Rusty Montagne was neck and neck with Blom in the SportMods finale, placing second, to maintain a 24-point advantage; Sioux City natives Sid Mosher and Todd Gereau were separated by only two points on the stock car division standings after placing third and second; fellow Sioux Citian David Miller was runner-up in the hobby stocks feature to bolster his season points advantage; and Yankton, S.D.'s Taylor Brown and Magnolia, Iowa's Jordan Runge kept their intense back-and-forth at the front of the sport compact division going by placing fourth and third, respectively, in the final regular season contest.
The penultimate battles for season points supremacy are on the docket Saturday, August 6, with the 2022 season championships races plus a visit from the Tri-State Late Models series. Tickets can be purchased at parkjeff.com, the Internet home of Park Jefferson International Speedway.
IMCA Sport Compacts by Fox 620
A Feature 1 (10 Laps): 1. 8K-Kaytee Devries[8]; 2. 35X-Connor Brown[7]; 3. 33R-Jordan Runge[6]; 4. 35JR-Taylor Brown[2]; 5. 1-Chase Felix[5]; 6. 98-Skyler Savage[3]; 7. 38S-Kyle Reed[11]; 8. 7G-Gilbert Aldape[13]; 9. 10V-derrick vermilyea[1]; 10. 16W-Dalton Woodle[9]; 11. (DNF) 51-Jake Walding[4]; 12. (DNF) 24H-Jacob Hemmelman[12]; 13. (DNF) 18K-Tyler Thompson[10]
Heat 1 (6 Laps): 1. 18K-Tyler Thompson[7]; 2. 8K-Kaytee Devries[6]; 3. 1-Chase Felix[4]; 4. 98-Skyler Savage[3]; 5. 10V-derrick vermilyea[1]; 6. 38S-Kyle Reed[2]; 7. (DNF) 7G-Gilbert Aldape[5]
Heat 2 (6 Laps): 1. 35JR-Taylor Brown[2]; 2. 51-Jake Walding[3]; 3. 33R-Jordan Runge[4]; 4. 35X-Connor Brown[5]; 5. 16W-Dalton Woodle[6]; 6. 24H-Jacob Hemmelman[1]
IMCA Stock Cars by J&J Fitting
A Feature 1 (14 Laps): 1. 30-Travis Barker[7]; 2. 94-Todd Gereau[6]; 3. 27-Sid Mosher[5]; 4. 17-Austin Brands[9]; 5. T17-Brenton Palmer[10]; 6. 1-Eric Faber[13]; 7. 49-Ryan Harris[2]; 8. 43-Aaron Cain[4]; 9. 4A-Brian Seibold[12]; 10. 69X-Richie Ackerly[11]; 11. (DNF) 66-Cole Rosenkrans[8]; 12. (DNF) 29V-Vandenbosch Heath[3]; 13. (DNS) N8-Nathan Fontenot; 14. (DNS) 78-Joe Merrill
Heat 1 (8 Laps): 1. 49-Ryan Harris[3]; 2. 94-Todd Gereau[5]; 3. 43-Aaron Cain[4]; 4. 66-Cole Rosenkrans[6]; 5. 17-Austin Brands[7]; 6. T17-Brenton Palmer[1]; 7. 4A-Brian Seibold[2]
Heat 2 (8 Laps): 1. 30-Travis Barker[5]; 2. 27-Sid Mosher[4]; 3. 29V-Vandenbosch Heath[3]; 4. (DNF) 78-Joe Merrill[2]; 5. (DNF) N8-Nathan Fontenot[7]; 6. (DNF) 69X-Richie Ackerly[1]; 7. (DNF) 1-Eric Faber[6]
IMCA Modifieds by JZ Diesel
A Feature 1 (18 Laps): 1. 15M-Shane DeMey[6]; 2. 1X-Chris Abelson[4]; 3. 55-Jim Cole[2]; 4. 88-Sean Barragan[7]; 5. 48-Bob Moore[5]; 6. 44X-Jason Schneiders[1]; 7. 25-Ricky Stephan[3]
Heat 1 (8 Laps): 1. 55-Jim Cole[2]; 2. 44X-Jason Schneiders[1]; 3. 25-Ricky Stephan[4]; 4. 1X-Chris Abelson[5]; 5. 48-Bob Moore[6]; 6. 15M-Shane DeMey[7]; 7. 88-Sean Barragan[3]
IMCA Northern SportMods
A Feature 1 (14 Laps): 1. 25-Josh Blom[3]; 2. T1-Rusty Montagne[11]; 3. 4G-Michael Guthrie[5]; 4. 16W-Daniel Woodle[1]; 5. 48-Tommy Tanner[4]; 6. 29J-Gregg Hamman[13]; 7. 72K-Tyler Schmidt[2]; 8. 21BT-Kirk Beatty[9]; 9. 17-DANIEL WAGNER[17]; 10. 69V-Danny Vanderveen[18]; 11. (DNF) 00K-Kalyb Brunssen[7]; 12. (DNF) 1J-Jonah Chinn[6]; 13. (DNF) 14-AJ Boulware[8]; 14. (DNF) 67JR-Jacob Beckstrom[15]; 15. (DNF) 57X-Devon McMartin[10]; 16. (DNF) 86W-Willy Kirk[14]; 17. (DNF) 13K-Karl Brewer[12]; 18. (DNF) 40-Leslie Lutter[16]
Heat 1 (6 Laps): 1. 25-Josh Blom[2]; 2. 14-AJ Boulware[4]; 3. 4G-Michael Guthrie[3]; 4. T1-Rusty Montagne[5]; 5. 29J-Gregg Hamman[6]; 6. (DNF) 40-Leslie Lutter[1]
Heat 2 (6 Laps): 1. 1J-Jonah Chinn[3]; 2. 16W-Daniel Woodle[1]; 3. 48-Tommy Tanner[2]; 4. 21BT-Kirk Beatty[4]; 5. 86W-Willy Kirk[5]; 6. 17-DANIEL WAGNER[6]
Heat 3 (6 Laps): 1. 13K-Karl Brewer[5]; 2. 57X-Devon McMartin[4]; 3. 72K-Tyler Schmidt[1]; 4. (DNF) 00K-Kalyb Brunssen[3]; 5. (DNF) 67JR-Jacob Beckstrom[2]; 6. (DNF) 69V-Danny Vanderveen[6]
IMCA Hobby Stocks by Q And Feather Again
A Feature 1 (14 Laps): 1. 88G-Gavin Gilbertson[4]; 2. 34M-David Miller[10]; 3. 33X-Carter Davis[13]; 4. 9-Joel Magee[3]; 5. 77-Craig Clift[5]; 6. 22T-Tyler Smith[7]; 7. 39-Lowell Janssen[6]; 8. 18-ZACH FRYE[17]; 9. (DNF) 99-Dellas Williams[11]; 10. (DNF) 8J-Jay Devries[8]; 11. (DNF) 32-Nate Regnerus[16]; 12. (DNF) 02C-Cody Boulware[12]; 13. (DNF) 96-Austin Lundquist[2]; 14. (DNF) 12M-Phillip McKee[14]; 15. (DNF) 09J-Christy Moffatt[15]; 16. (DNF) 35X-Connor Brown[1]; 17. (DNF) 8X-Andy Hoffman[9]
Heat 1 (6 Laps): 1. 9-Joel Magee[3]; 2. 8J-Jay Devries[7]; 3. 34M-David Miller[8]; 4. 88G-Gavin Gilbertson[4]; 5. 39-Lowell Janssen[6]; 6. 99-Dellas Williams[5]; 7. 33X-Carter Davis[9]; 8. 09J-Christy Moffatt[2]; 9. (DNF) 18-ZACH FRYE[1]
Heat 2 (6 Laps): 1. 77-Craig Clift[4]; 2. 96-Austin Lundquist[2]; 3. 22T-Tyler Smith[6]; 4. 8X-Andy Hoffman[7]; 5. 35X-Connor Brown[1]; 6. 02C-Cody Boulware[3]; 7. 12M-Phillip McKee[8]; 8. (DNF) 32-Nate Regnerus[5]
---
Submitted By: Adam Adamson
Back to News