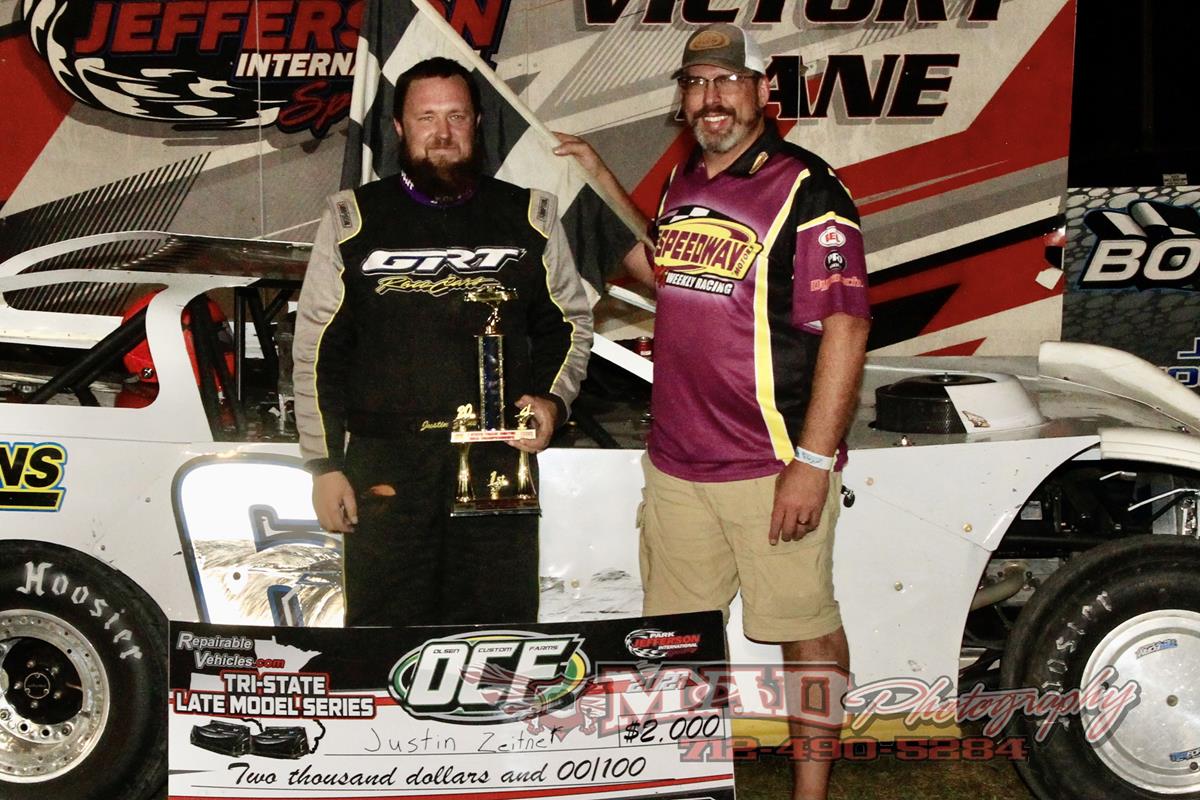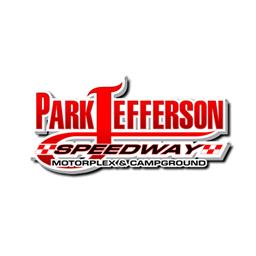 8/15/2021
Park Jefferson International Speedway
---
Park Jefferson Speedway closes out 2021 with Late Models and IMCA Championship
The 2021 racing season at Park Jefferson Speedway saw the checkered flag fall as fans saw perfect August weather to finish the season. The great team from I State Truck Centers was on hand for their employee night and Zeitner & Sons brought the Tri State Late Models to Park Jefferson for the first time late models hit the track in 4 attempts this season.
The Tri State Late Model Series put on a whale of a show as the racers saw Justin Zeitner in the family owned 62 car pick up the trophy and the $2,000 check. Zeitner was the beneficiary of a late race caution that saw Nate Beyenhoff's lead sacrificed due to the yellow. Beyenhoff was the class of the field early and had a 3 second lead at one point. Meanwhile a torrid battle raced behind him as Blair Nordruft, Gary Brown and Zeitner thrilled the fans as they roared around the Park. Ultimately mechanical got Brown and Zeitner used his track knowledge to claim the top spot with just a few laps remaining to pick up the feature win.
In the IMCA Modifieds it was a green, white, checkered romp by Chris Abelson as he hones in on 200 wins. Abelson got the jump on the field and never looked back. Shane Demey came from last to finish second and Racer Ricky Stephan rounded out the top 3.
Travis Barker and Sid Moser had the fans out of their seats a they dueled in a classic during the J&J Fitting Stock Car Feature. Moser was fast out of the gate but a late race pass saw Barker look to claim the top spot. Moser was not done, as he battled back to retake the lead with a handful of laps remaining only to see Barker nip him at the line.
The IMCA Sport Mods saw Keegan Nordquist get a well deserved win. After loosing a close one in the Iron Cup, Nordquist went well to the front and carried on to win over Wayne Becker and Keith Sanders.
The Q & Feather Again Hobby Stocks wrapped up the season with Kaylb Brunssen leading wire to wire as he continues his late season run of dominance at PJ. David Miller and Craig Clift rounded out the podium
2021 final points are being reviewed and the final point standings will be at www.parkjeff.com on Monday afternoon.
Thank you to all the drivers, crews, sponsors, employees and most of all the fans that make Park Jefferson the Siouxland Home for Speed.
IMCA J&J Fitting Stock Cars
A Feature 1 (16 Laps): 1. 30-Travis Barker[4]; 2. 27-Sid Mosher[1]; 3. 94-Todd Gereau[3]; 4. 55JR-Greg Taylor[10]; 5. 10N-Kole Nordquist[2]; 6. 43-Aaron Cain[5]; 7. 51-Deven Schelm[6]; 8. 95-Tom McKenzie[7]; 9. 10X-Paul Wenzlaff[8]; 10. 78-Joe Merrill[9]
Heat 1 (8 Laps): 1. 27-Sid Mosher[3]; 2. 94-Todd Gereau[6]; 3. 10N-Kole Nordquist[5]; 4. 30-Travis Barker[7]; 5. 43-Aaron Cain[8]; 6. 51-Deven Schelm[2]; 7. 95-Tom McKenzie[1]; 8. 10X-Paul Wenzlaff[10]; 9. 78-Joe Merrill[9]; 10. (DNF) 55JR-Greg Taylor[4]
IMCA SportMods
A Feature 1 (14 Laps): 1. 10N-Keegan Nordquist[5]; 2. 7-Wayne Becker[7]; 3. 2-Keith Sanders[1]; 4. 00X-Jeff Brunssen[9]; 5. T1-Rusty Montagne[6]; 6. 57X-Devon McMartin[4]; 7. 21BT-Kirk Beatty[3]; 8. 14-AJ Boulware[8]; 9. (DNF) 6-Luke Jackson[2]
Heat 1 (6 Laps): 1. 6-Luke Jackson[2]; 2. 21BT-Kirk Beatty[4]; 3. 10N-Keegan Nordquist[9]; 4. 2-Keith Sanders[1]; 5. 57X-Devon McMartin[5]; 6. T1-Rusty Montagne[7]; 7. 7-Wayne Becker[8]; 8. 14-AJ Boulware[3]; 9. 00X-Jeff Brunssen[6]
IMCA Modified
A Feature 1 (20 Laps): 1. 1X-Chris Abelson[1]; 2. 15M-Shane DeMey[8]; 3. 25-Ricky Stephan[3]; 4. 02JR-Chris Mills[5]; 5. 48-Bob Moore[2]; 6. 88-Sean Barragan[4]; 7. M80-Jim Mathieson[7]; 8. (DNF) 35-Jeff Berens[6]
Heat 1 (8 Laps): 1. 1X-Chris Abelson[3]; 2. 48-Bob Moore[4]; 3. 02JR-Chris Mills[7]; 4. 25-Ricky Stephan[5]; 5. 88-Sean Barragan[6]; 6. 35-Jeff Berens[1]; 7. M80-Jim Mathieson[2]; 8. (DNS) 15M-Shane DeMey
Dirt Late Models
HH Mobile Home A Feature 1 (30 Laps): 1. 62-Justin Zeitner[5]; 2. 51-Nate Beyenhof[1]; 3. 76-Blair Nothdurft[6]; 4. 1V-Gale Vogt[4]; 5. 71-Mike Benson[16]; 6. 5-Luke Sathoff[7]; 7. 22-Gary Brown Jr[3]; 8. 11-Brad Vogt[9]; 9. 27-Dylan Fitzpatrick[10]; 10. 8-Lane Brenden[14]; 11. 24S-TJ Schmidt[13]; 12. 9-Jared Jelsma[15]; 13. (DNF) 38-Jordan Heiman[2]; 14. (DNF) 748-Kyle Jensen[12]; 15. (DNF) 99-Travis Paulson[11]; 16. (DNF) 41-Chad Graves[17]; 17. (DNS) 10TOO-John Hoefert
Sioux Fall Peterbuilt Heat 1 (8 Laps): 1. 51-Nate Beyenhof[1]; 2. 38-Jordan Heiman[3]; 3. 5-Luke Sathoff[4]; 4. 27-Dylan Fitzpatrick[5]; 5. 24S-TJ Schmidt[6]; 6. 71-Mike Benson[2]
EA Concrete Heat 2 (8 Laps): 1. 62-Justin Zeitner; 2. 76-Blair Nothdurft; 3. 10TOO-John Hoefert; 4. 99-Travis Paulson; 5. 8-Lane Brenden
EA Concrete Heat 3 (8 Laps): 1. 1V-Gale Vogt; 2. 22-Gary Brown Jr; 3. 11-Brad Vogt; 4. 748-Kyle Jensen; 5. 9-Jared Jelsma; 6. 41-Chad Graves
Q And Feather Again IMCA Hobby Stocks
A Feature 1 (14 Laps): 1. 00K-Kaylb Brunssen[4]; 2. 34M-David Miller[10]; 3. 77-Craig Clift[8]; 4. 81X-Jeremy Ertman[6]; 5. 48J-Justin Shearn[5]; 6. 3A-Auston Honeycutt[13]; 7. 22T-Tyler Smith[7]; 8. 11-Cody Wangerin[1]; 9. 33-Carter Davis[12]; 10. 18-ZACH FRYE[11]; 11. 99-Dellas Williams[3]; 12. (DNF) 82-Dylan Fitzpatrick[9]; 13. (DNS) 9-Joel Magee
Heat 1 (6 Laps): 1. 34M-David Miller[6]; 2. 81X-Jeremy Ertman[4]; 3. 77-Craig Clift[5]; 4. 99-Dellas Williams[2]; 5. 11-Cody Wangerin[7]; 6. 18-ZACH FRYE[3]; 7. (DNF) 3A-Auston Honeycutt[1]
Heat 2 (6 Laps): 1. 82-Dylan Fitzpatrick[6]; 2. 00K-Kaylb Brunssen[3]; 3. 22T-Tyler Smith[5]; 4. 9-Joel Magee[1]; 5. 48J-Justin Shearn[4]; 6. 33-Carter Davis[2]
---
Article Media
Back to News